We are looking for help and support with finding receiver site's for the 146.445 VHF Repeater System
any help would be greatly appreciated .
We put this VHF repeater system on the air in 1991 with a lot of help from a lot of ham's and none ham's.
People that have helped in the past come from many area's of PA and Ohio and even New York.
We do have many Communication's Radio Dealer's and private company's that uses two way with donation's
of GE Master2 base mobile radio's and Motorola base station's and mobile and hand held radio's and other
items like antenna's , duplex's hard-line coax and all kinds of mounting hardware and computer's and even
wifi and lots more. To much to list.
We always find ways to use everything we get. We always say extra parts are worth having.
We do rate this vhf repeater system to be one of the best around and it keeps getting bigger.
This repeater system is used for many reason's: MS Bike Rides , Net's for Skywarn , Question's & answer's
Emergency communication's , ECT. Emergency testing of every ham radio station .We do lots of testing on
everyone's knowledge of emergency drill's, on what to do . Practice handling traffic and other information
to any station like A.R.E.S. , Redcross , 911 center , R.A.C.E.S. , Fire departments and much more .
If there is ever a disaster in the area this is the system I would want to use .
We do have a big battery back up system that can run for weeks not like most that runs for
hour's or maybe 2 days
We keep the repeater system running 100 watts on battery back up no matter what we have to do.
We also have 2 gas generator's for back up if we need them.
The biggest problem we have right now is finding some receiver site's in our great state of PA.
So if you can please finish reading and looking at this page to get more information.
We do get alot of email from people asking me why can they hear the repeater good but can't key it up.... WHY ?
There could be many reason's for this and one could be on their part. Something is just not set right with
their set up.
If you know anyone that has tower site's in the area's listed below PLEASE let them know about us or if
you can send me a email with any information you can get with location where the tower is and who has it .
It would be very appreciated
That would help. My email is ke3jp@zoominternet.net
This system is running a voting system with 10 receiver's sites right now .
Listed below is what We have in service so far:
There are 2 sites in Ohio We want to move to have better coverage.
There is one site in PA that might get a upgrade to a higher antenna for receive and another one we might
lose because the site tower might be taken down because it's old and land sold.
We will update everyone when this happens.
Greenville Pa main site 300 foot tower RX is at 100 feet.
Thiel College Greenville Pa which covers down town RX antenna is at 100 feet
Hermitage Pa 400 tower RX antenna 70 feet for now but planning on getting antenna higher this summer.
New Castle Pa which is off line for now RX antenna is at 60 feet.
Linesville Pa RX antenna is at 180 feet.
New BuryOhio RX antenna is at 500 feet.
Wayne Ohio RX antenna is at 150 feet.
Mantua Ohio 400 foot tower RX antenna is at 400 feet.
Holland Ohio RX antenna at 70 feet
Wadsworth Ohio rx antenna at 150 feet
We do have Ohio coverage real good, don't really need anything there at this time unless something better comes along
Then i might be able to move one around to make it a little better
We am looking for site's in the county's listed below
Southern part of Mercer , Southern part of Erie , East of Warren ,
All Of Crawford , Venango , Lawrence , Northern part of Butler , East of Clarion
There are 2 county map's listed below if you know of anyone that has tower site's in the area's listed below PLEASE
let them know about us or you can send me a email with any information you have with location (where the tower is)
and who has it. That would help me out. My email is ke3jp@zoominternet.net
Click on link below and go to google and you can check out more about the site on map
http://maps.google.com/maps/ms?ie=UTF&msa=0&msid=207525635247899373624.0004d952df49f876c2262
This map shows the transmit at 100 watts coverage for the 146.445 repeater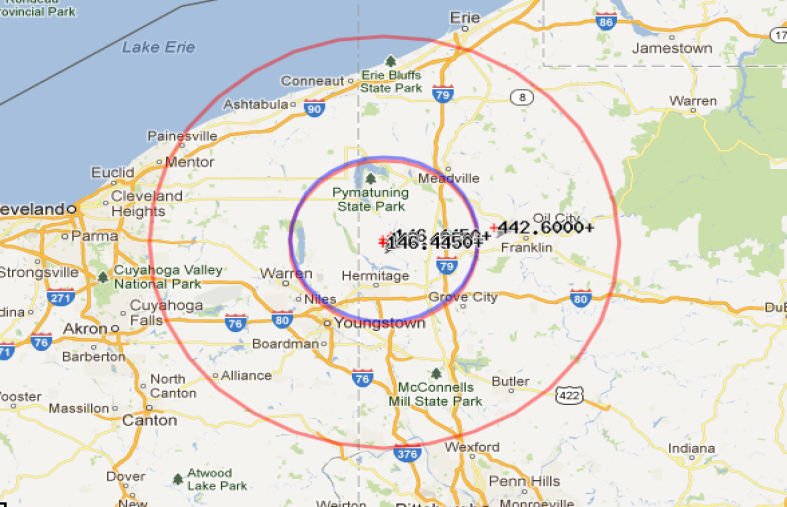 transmitter site's

receiver site's i have now

needed receiver sites
This is the map shows you everything from transmitter to receiver site we have and needed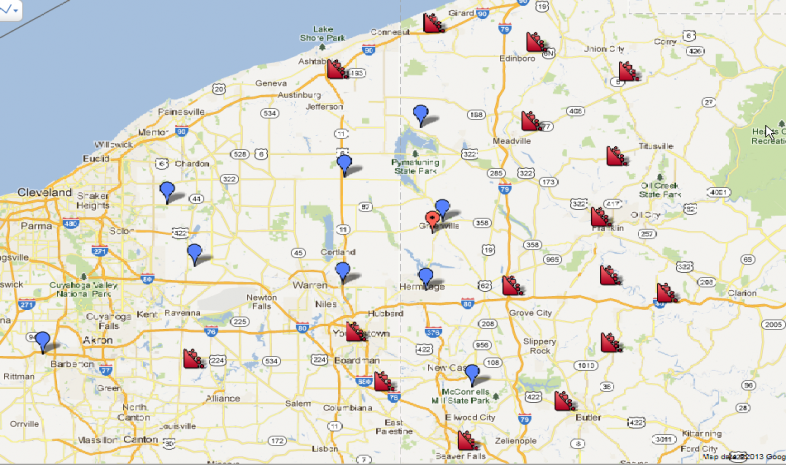 The next 2 map's show you what is on the air being used at this time for transmit-er and receiver's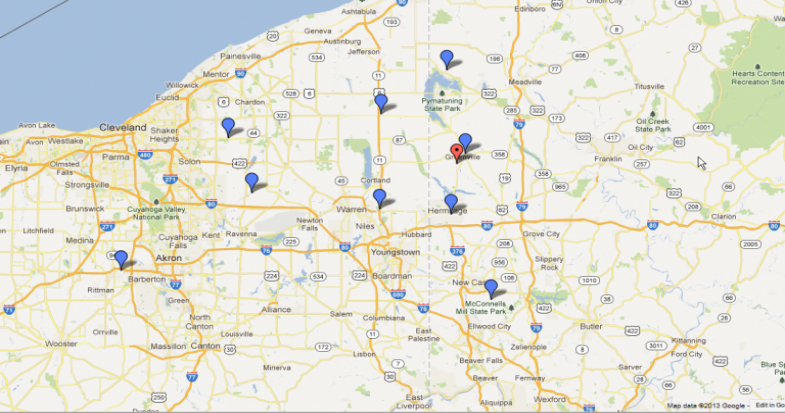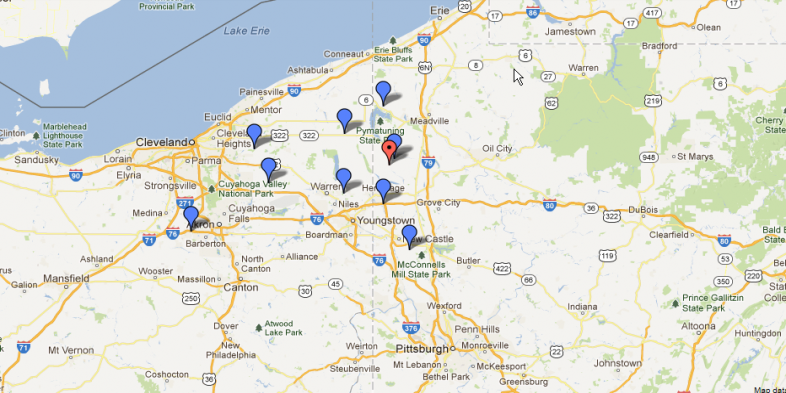 This Pa map shows you the county's the the 146.445 repeater is heard and most of it you can work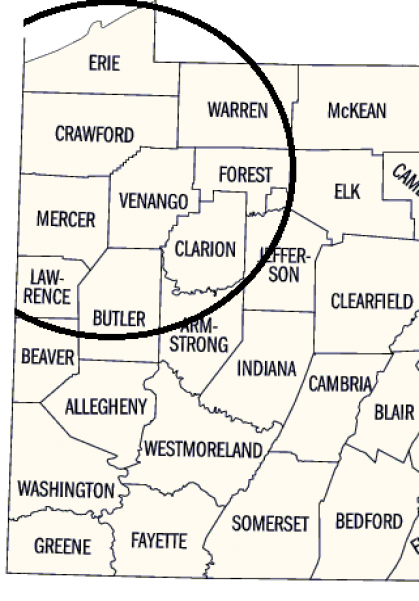 This Ohio map shows you the county's the the 146.445 repeater is heard and most of it you can work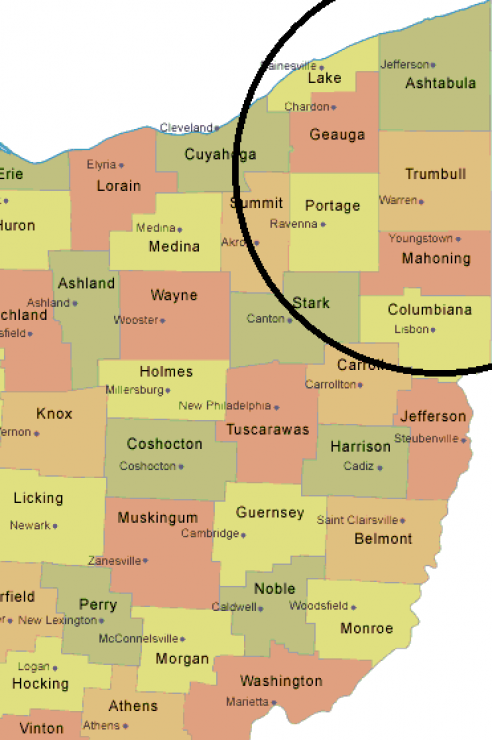 If you know anyone that has tower site's in the area's listed below PLEASE let them know about use or you can send me a email
with any information you can get with location where the tower is and who has it would help my email is ke3jp@zoominternet.net
Any information we can get would be very appreciated
To go to main site www.ke3jp.com
thanks for stopping to check out our web site
Web Page Done By
Michael L Mowery KE3JP
6 Mud College Road
Greenville , Pa 16125
Cell Phone 724-815-1324
ke3jp@zoominternet.net